The Place to Go for Fun and Affordable Gifts
In the Columbus Ohio Area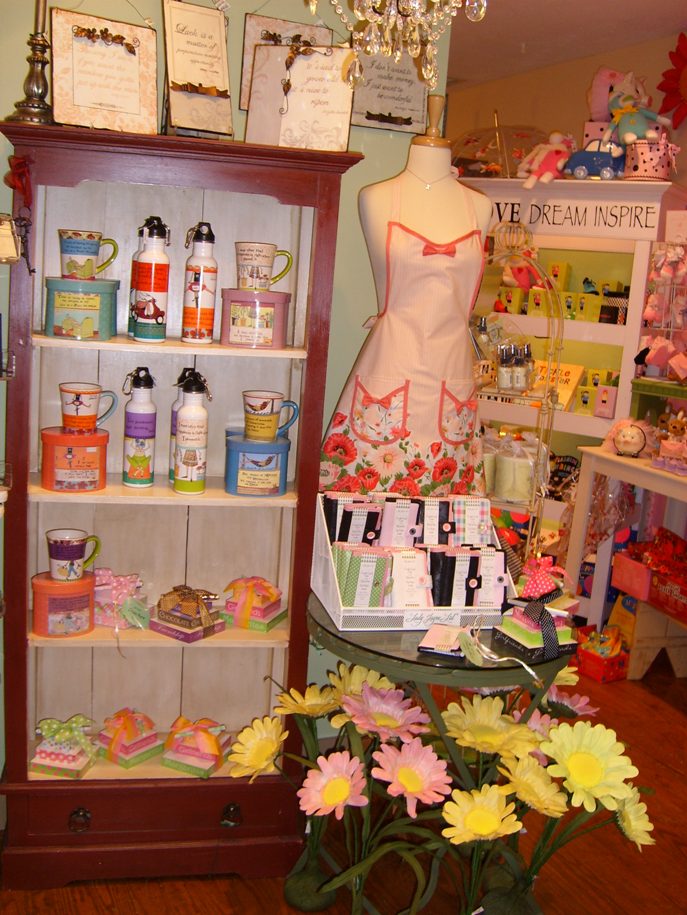 Come visit our gift shop and see why so many people in the Columbus Ohio area make Baker's Village their first stop when they need a gift for a friend or a little pick-me-up for themselves. Whether you're searching for something fun and whimsical or inspiring and sentimental, the Baker's Village Gift Shoppe has an eclectic selection of unique gift items that's sure to fit the bill. With most items priced under $25, these gifts will fit your budget, too!
In addition to stocking a huge variety of our tried-and-true favorites, three times a year we fill the shop with new merchandise hand-selected from our buying trips to Atlanta:
Spring – Each spring the shop is stocked with a fresh and irresistible selection of what's hot and new from the Atlanta Gift Show. We'll have the latest fashion accessories, home decor, whimsical garden art, and much more. Adorn your front door with one of our spectactular spring wreaths, and tantalize your taste buds with tasty gourmet dips and spreads.
Fall – From licensed Ohio State University gift items (go Buckeyes!) to fun and festive fall napkins and plates, spooky Halloween bowls, playful dress up costume hats and glasses, and much more, we'll have it all. And you won't want to miss our famous Fall Festival: every weekend in September we'll be serving gourmet dips and spreads, and brewing warm Mulling Spices for your tasting.
Christmas – Round about October the elves arrive to transform our shop into a Christmas Wonderland. We'll have gorgeous trimmed theme trees, strolling carolers, delicious home-made cookies, and all the special Christmas gifts and home décor items you love.
Take a look below at some of our most popular gift lines. Many of these are also available online for your shopping convenience.

Home Fragrance Products
Mmmm. What's that wonderful smell? For over 15 years our customers have been coming back time and again to purchase Aromatique's fabulous home fragrance products. All year round we carry a full selection, including potpourri, scented candles, oils, and room sprays. These fragrant little luxuries are an easy and affordable way to bring more joy into your everyday life. Which smile-inducing scent would you prefer?

Smell of Spring
Cinnamon Cider
Smell of Christmas
Books
Books have the power to lift up your spirits, encourage you, and motivate you to be your best. Our line of inspirational books is perfect for any gift-giving occasion, from graduations and birthdays to thank you's, success, and "I'm so glad you're my friend." We even carry a book written just for volunteers! Many of these books are thought provoking and contain beautiful and powerful reminders that our human spirit is alive and well.

The Tickle Monster book by Josie Bissett is sure to be a classic. A loveable monster has just flown in from Planet Tickle. His mission is to tickle any child who happens to be following along in the Tickle Monster book. Parents read aloud and do the tickling, while children laugh and squirm with delight. This limited-edition copy is hand-signed by author Josie Bissett.

Other good sellers include Live Good, The Heart of a Volunteer, I Believe In You, and To Your Success.
Seasons Jewelry
| | |
| --- | --- |
| | If you're looking for unique, affordable and FUN jewelry…Season's Jewelry is your new best friend! You will love the interchangeability and personalized style you can create with the fashion forward and seasonal pendants. Not to mention you can create personalized jewelry gifts for your friends. |
A Hat for All Occasions

From fedoras to extra-wide brimmed styles, hats are in! Wear them in the winter for some added warmth, wear them in the summer with a cute dress, or wear them to the airport to hide your inevitable plane hair – whatever the occasion, hats are here to stay.


Our selection of Hats includes:
• Newsboy & Military Twist
• Fedora & Caps
• Cloche & Bucket Hats-wool & felt
• Berets-animal print
• Faux Fur Trappers

Rothschild
| | |
| --- | --- |
| | A gift from Robert Rothschild is highly sought-out indeed, perfect for anyone who appreciates good food, enlivened tastes and some culinary pampering. Robert Rothschild has a wide selection of specialty salsas, mustards, hot or grilling sauces, preserves and butters, dressings, sweet toppings, oils and vinegars. (please make this a drop down menu when you get to products) Our selection of Robert Rothschild products include: Raspberry Honey Mustard Dip, Roasted Red Pepper & Onion Relish, Roasted Pineapple & Habanero Dip, Hot Pepper Peach Preserves |
Corky's Shoes
| | |
| --- | --- |
| Add funky flavor to your life with the Elite Nature Collection by Corky's. These shoes are ready to take you on life's many adventures in comfort and style. Rich leather upper with beautiful cutout detailing for added personal flair and stylish appeal. | |
DaVinci European Charm Beads
Express your style, mood, and personality with DaVinci Beads, our newest line of European-style charm beads. Made from quality materials that will last to be treasured for years to come, DaVinci Beads are carefully crafted to high-quality industry standards that give them their polished metal, glass, and semi-precious stone look.

Most importantly, jewelry is made to be worn, and with DaVinci Beads priced at just $6.99 each, you can afford to wear and show off your newest creations, and change them as often as you like.

So create a bracelet or necklace from our great collection of European bead charms and enjoy the style that DaVinci Beads brings to accessorize everything else you are wearing.

Buckeye Bonanza
Get ready for football season! Each fall we stock our shelves with the latest Ohio State University gift items. Featured here is our popular Veggie Platter. Perfect for entertaining at home on game day or bringing food to your tailgate party. The logos are hand painted and the pottery itself is thick, durable, and safe for both microwave and dishwasher.

Other Buckeye treasures include Egg Dish, Photo and Ball Ornament.
Personalized Ornaments
Your family is unique, your Christmas tree is unique, and your ornaments should be unique, too! For only $10 to $15 you can have a handcrafted, personalized ornament that's sure to become a treasured family heirloom. With 300 styles to choose from, including many with room for up to 12 names, chances are high that we've got just what you want.

Plus, we do the personalization on the spot (seven days a week someone will always be available to complete your order) so getting the perfect ornament is always quick and easy. We'll even include a beautiful green box to turn the ornament into a ready-to-go gift. Of course, personalization is always free.

To make it easy to find just what you want we keep the ornaments organized by category and family size. Some of our most popular personalized ornament styles include:

Fireplace, with a stocking for each name
Gingerbread Family
Grandma's Darlings
Heart Wreath
Christmas Tree
Small Picture Frame
Grandma's Cookie Plate
North Pole House
Family Car
And many more